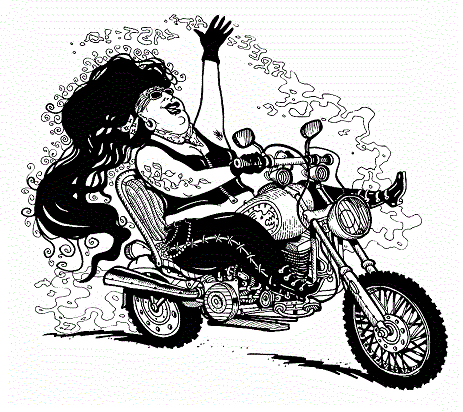 "I need a change," said Zadie, in a decided tone, to the woman at the thrift store counter.
​
The saleslady nodded and asked in reply, "Superficial, Situational or Total?".
​
"Total," answered Zadie, "… but maybe just temporary? It's not all bad."
​
"You don't have to decide that now," said the saleslady. "You can keep everything or bring it all back later. For a restocking fee, of course."
​
"Oh, that would be wonderful. Thanks so much. Can I look at some options?" asked Zadie.
​
"Sorry, not with Total. It's a surprise package. All or nothing. Your only choice is when to come back. We recommend you leave that open."
​
"Oh, I see. Well, when would I start?" asked Zadie.
​
"Any time. Right now, if you're ready. Change rooms are in the back. There are lockers for stuff you want to keep. I have notification forms here."
​
"Notification forms?"
​
"In case you want to leave a message for your husband, kids, employer. That kind of thing."
​
"That's thoughtful. What about cost?" asked Zadie.
​
"It's covered. You've already paid. That's another nice thing about Total."
​
"Good to know. Can somebody water my plants?"
​
"That's what the notification forms are for. Put any instructions in the space at the bottom. Don't forget to include the name and address."
​
"What about insurance? Health risks? Dietary concerns? Is there some sort of warranty?"
​
"Honey," said the saleslady, looking straight into her eyes, "didn't you just say you wanted a change?"
​
Zadie looked down at the counter, "Yes. I did." She paused for a second and took a deep breath, then looked up and said firmly, "Ok, I'm ready now."
​
"Good! Don't worry, you won't regret it," said the saleslady. "Now just follow me and let's see what we have."
​
Zadie followed the woman around the counter into the back room, a storage area with boxes, clothing racks and a motorcycle with a metallic purple fuel tank. She walked her fingers along a rack and pulled out an embroidered black leather jacket with matching pants. "Ah, perfect. Here you go, just your size. Boots, gloves and helmet are in the box, there."
​
"Are you sure?" asked Zadie, her mouth dropping open.
​
"Believe me, it's you," said the saleslady. Now get changed in there," she said gesturing towards a curtain. "Leave your clothes in any open locker. $2.00 deposit for the key. I'll push the bike outside and find your map."
​
Eight minutes later Zadie emerged from the change room in her new riding gear. "Ha, I knew it!" shouted the saleslady. "You're already crushing it." Zadie smiled shyly and sniffed the leather.
​
"Your bike is outside," said the saleslady, "all gassed up and ready to go. Here are the keys. Here is your map. You're going to the Festival of Omega. Read more about it on the way."
​
Then she gave Zadie a little hug and smiled, "Goodbye, but come back whenever you're ready."